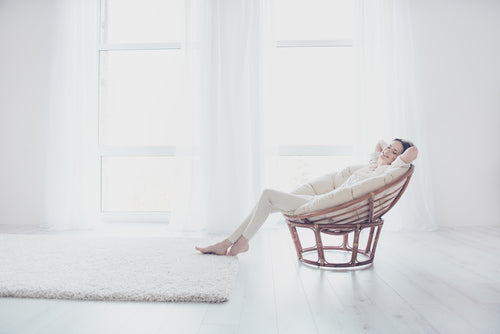 Our 5 Favorite Self Care Activities - Using At-Home Time to Rejuvenate
"Making Lemonade..." is what we like to call the sane thing to do during this crazy time. Here are our 5 favorite things to turn our home into a rejuvenating spa:
1. Experimenting with healthy organic recipes in the kitchen. Eating well is probably the most important thing to boost our immune system and stay healthy, long after the stay-at-home order is lifted. Taking this time to loose a few pounds, getting on a great energizing antioxidant diet is time well spent. Try to eat as many different colored fruits and veggies as possible, every color represents a different set of nutrients. If you are local to the San Clemente area, you can buy fantastically fresh organic produce at the Ecology Center Farmstand in San Juan Capistrano https://www.theecologycenter.org/farmstand/ while supporting local organic farming. This is the freshest organic food you can get, their lettuce stays fresh in the fridge for 3 weeks! 
Soaking all fruits and veggies in water and iodized salt will clean them as well as get any critters out of there, soak for 15 min. - rinse and store. 
As tempting as staying at home is to indulging, stay away from alcohol, caffeine, refined sugars, breads and pastries. These foods drain your energy by affecting your adrenals and pancreas, which can result in depression, mood swings and fatigue. Try some green tea instead of coffee or energy drinks, its a powerful antioxidant and anti-inflammatory, loaded with polyphenols that rejuvenate your skin. 
2. Daily sun exposure to build vitamin D and calcium is another MUST to stay healthy. Try to get outside for about 30 minutes daily, exposing your skin to sunlight without getting burned. The vitamin D your body produces cannot be replaced with supplements. Medical research has found for many years that high vitamin D levels can prevent cancer, and now we have news that c-19 mortality rates are higher in patients with low levels of vitamin D. Besides all the clinical stuff - going outdoors is rejuvenating, energizing, uplifting and makes us feel good!
3. Exercise is one of the best ways to feel and look great. Moving physically stimulates endorphins and reduce pain - similar to morphine. With gyms closed, we can easily get into a funk and "wait til tomorrow" to start our at-home routine. We find great comfort in trying new classes online, without anyone watching us not being able to do the "pretzel". Might keep this one up after gym's re-open, love not having to get in the car to go work out. Rotate between yoga classes, meditation, try https://www.calm.com/ , strength training, cardio, change it up 3-5 times per week. 
4. Make your bedroom a sanctuary. Good sleep is essential to build up your immune system and mental health. Get a mattress topper if your bed is not comfortable and you wake up with pressure points. Order a nice set of sheets online - Egyptian cotton, linen, bamboo - plenty of pillows. Get some black out blinds or curtains to be able to sleep whenever you need rest. Install amber colored light bulbs, they will keep you from being sleepless after that bathroom run. Use aromatherapy blends in a diffuser or a pillow mist to calm a racing mind. Have an electric tea kettle on your night stand along with a box of your favorite teas. You can spend time to relax at night with a sleepytime tea and wake up with a slightly caffeinated green tea. Cherish the moments before and after sleep, use them to do a 10 min. meditation https://www.calm.com/ - its amazing! 
5. Practice a diligent skincare routine, give yourself time to take baths, exfoliate, do masques, condition your hair, do an at-home peel, use at-home LED units, ultrasound skin care, we have everything you need in this department - we are on standby to advise and consult with you anytime. Just txt or call (949)325-5727 for anything we can help you with. 
The pure skin science basic regimen includes 5 handcrafted organic vegan products that work in synergy to supply ultimate skin clarifying, hydrating, plumping and nourishing in 4 easy steps twice daily, without exposure to potentially harmful chemicals. Specialty treatments can be added to fortify results and address specific concerns.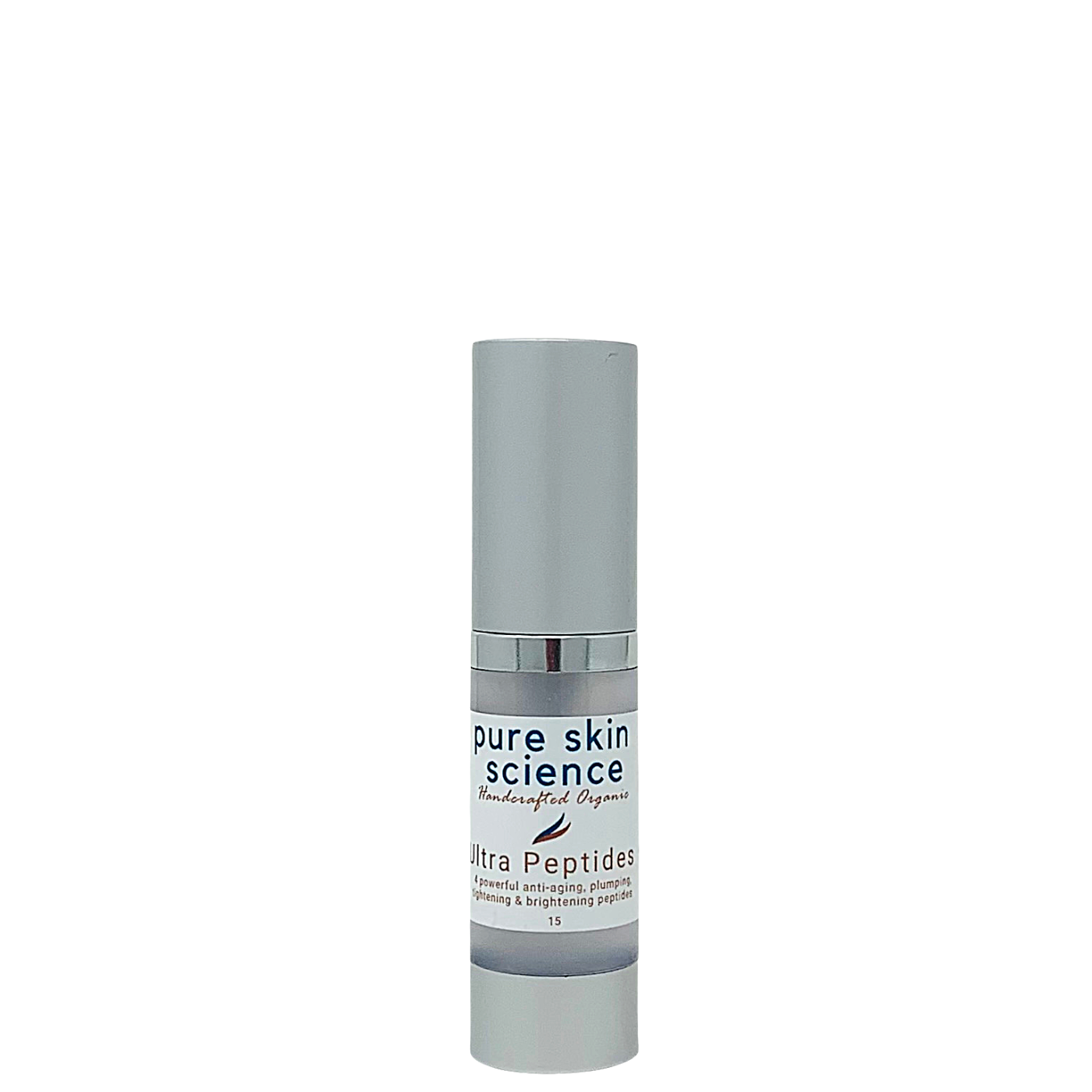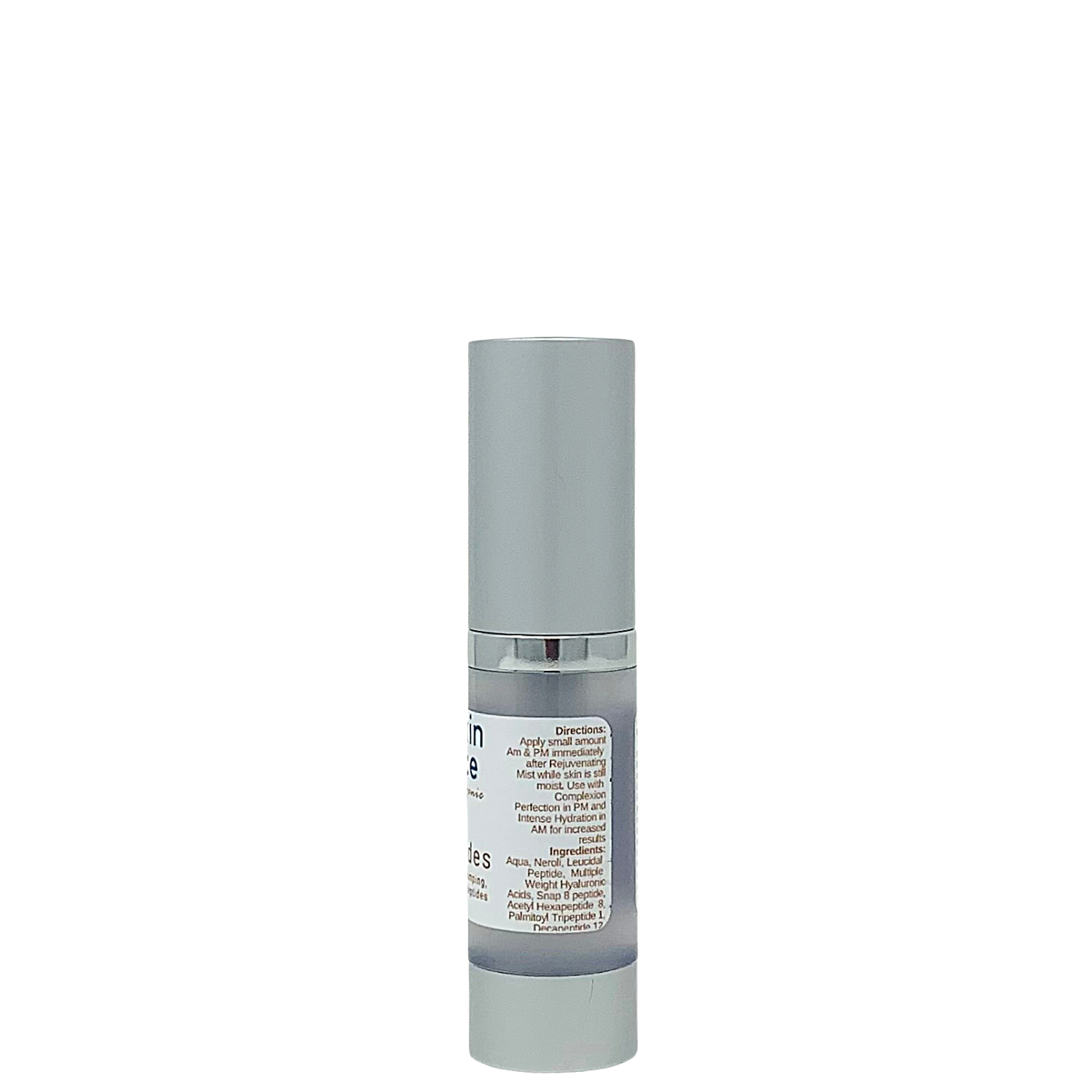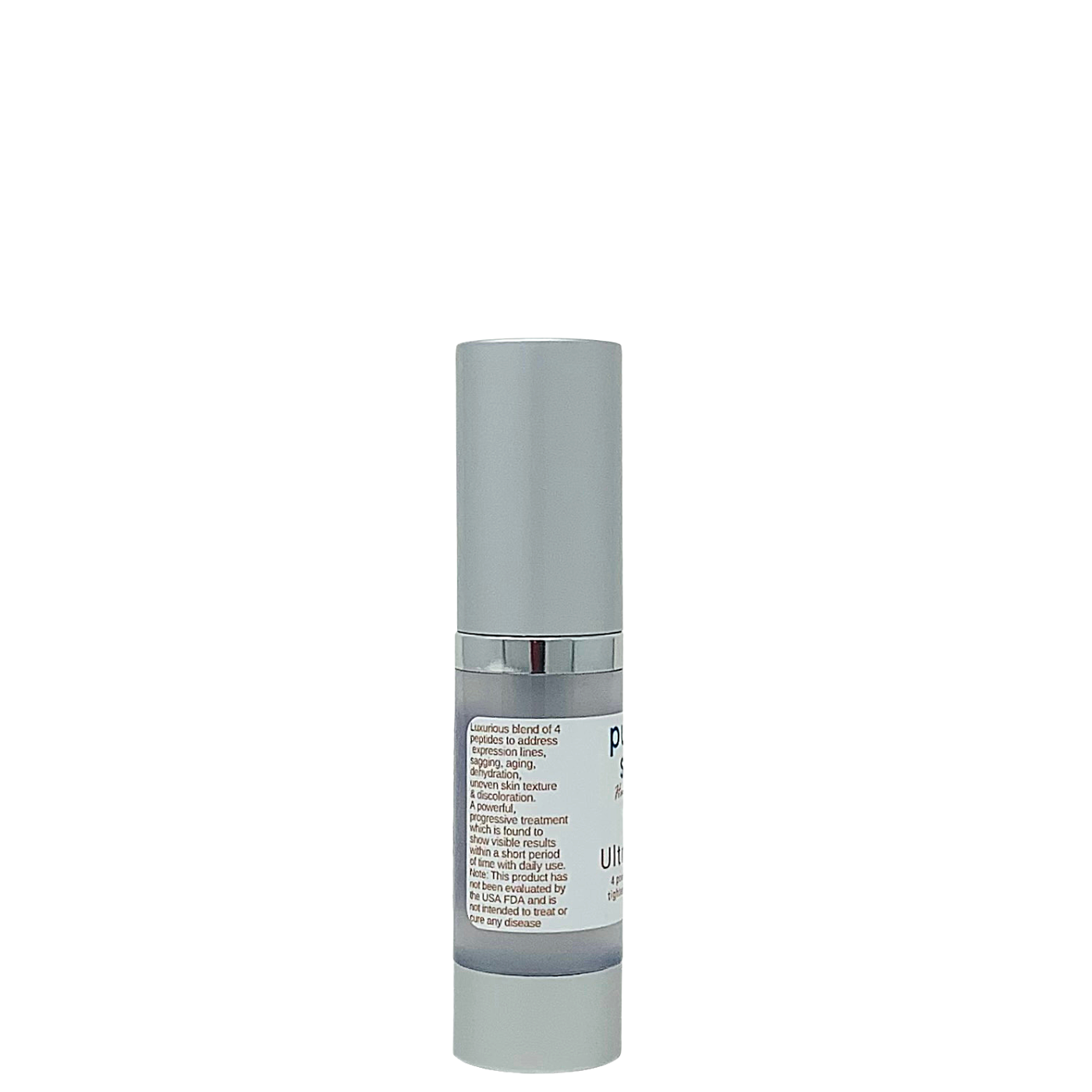 Sale price

$175.00
Regular price
(/)
Discover the transformative power of Ultra Peptides! Our potent peptide serum is formulated with only active ingredients, including Snap 8, Acetyl Hexapeptide 8, Palmitoyl Tripeptide 1, and Decapeptide 12. Plus, Hyaluronic Acid for deep skin plumping hydration! This powerful blend repairs, corrects, tightens, and reduces discoloration- all while providing maximum potency and safety, utilizing the highest clinically recommended dose of all 4 peptides. Experience results that become progressively stronger with each daily use, and can reduce wrinkle depth by 30% in 30 days!
Click here to read our Blog about these Peptides

To use: Apply AM and PM after Rejuvenating Mist, while skin is still moist. For faster, fortified results mix with one pump of Intense Hydration Copper Peptides in the AM and with one pump of Complexion Perfection in the PM. Apply Snap 8 to expression lines prior to application for stronger botox-like results.
Ingredients: Aqua, Neroli, Leucidal Peptide, Multiple Weight Hyaluronic Acids, Snap 8 Peptide, Acetyl Hexapeptide 8, Palmitoyl Tripeptide 1, Decapeptide 12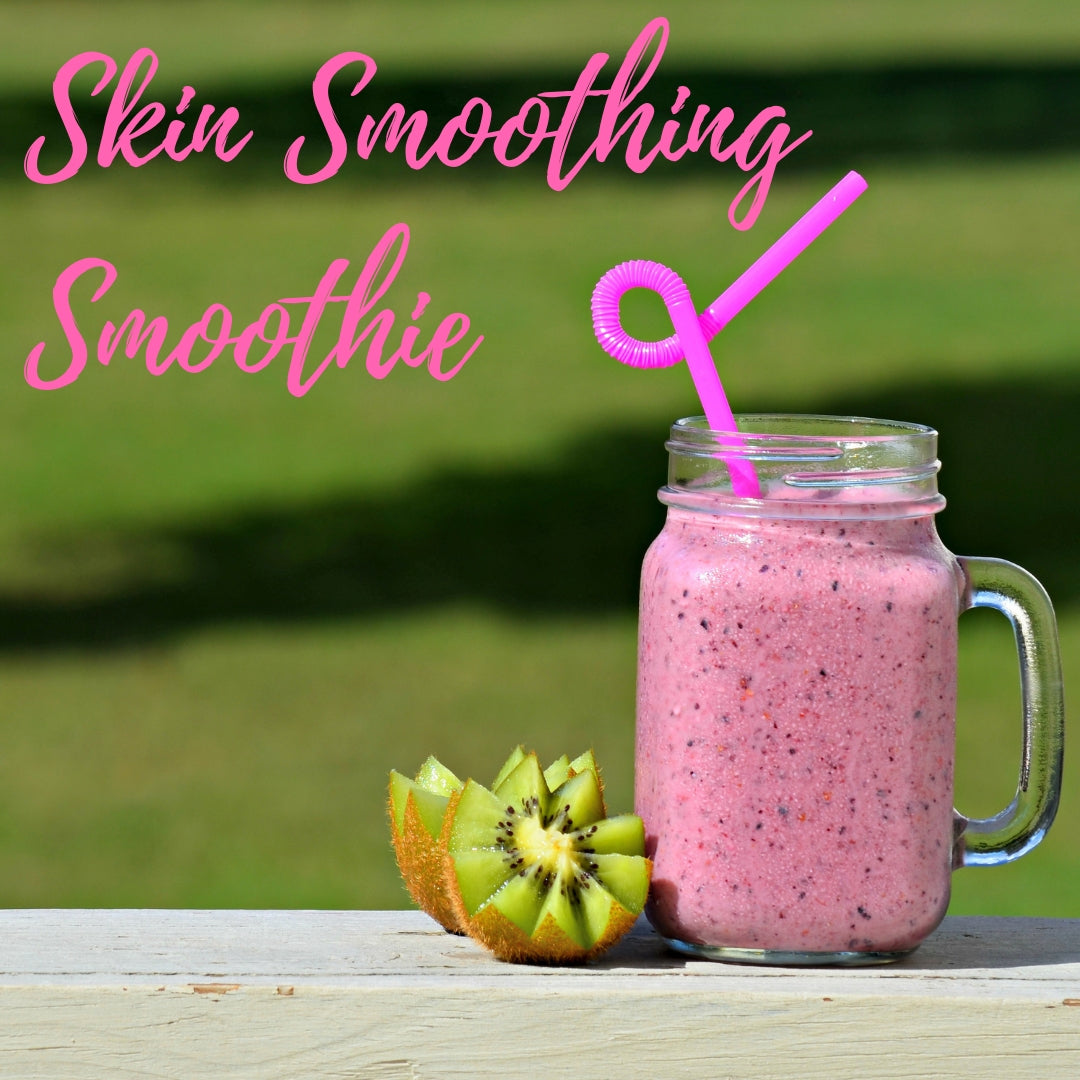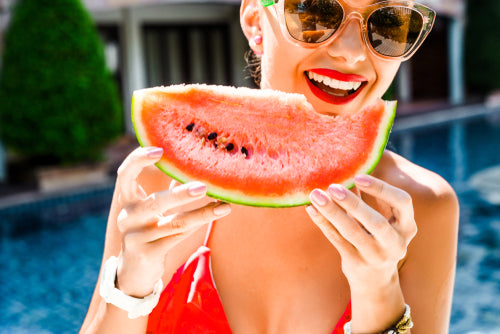 6 sun protective skin foods
With covid-19 surging this summer, it has never been more important to get your daily dose of sunshine to boost your immune system. Along with applying natural broad spectrum SPF, eating these 6 fo...
Read more